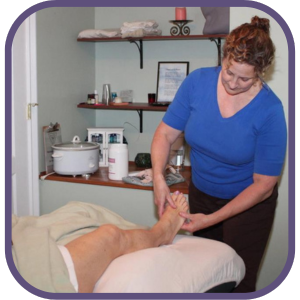 As I developed my strong background in therapeutic and pain management techniques in the beginning of my massage career, I had the fortune to intern and then work in McKenzie-Willamette Hospital in Oregon. This began my commitment to provide relaxing, safe and effective massage for women during and after acute and chronic medical issues.
When I relocated to Philadelphia in 2007, I started my private practice and worked at The Cancer Treatment Center of America. Working at this hospital allowed me to practice in a truly integrative healthcare system. I was able to be part of a rehabilitation department where therapeutic massage therapy and lymphatic therapies were fully incorporated into patients healthcare plans. Amazing!
I bring this amazing background into my massage practice today. I offer you highly specialized techniques in a warm and relaxing atmosphere. Our sessions are based on your needs, my experience and the current evidence based information. It is a collaboration. That may sound very clinical but what I hope you will feel in your session is a luxurious, calming and timeless hour.
Having worked in several spas, I also bring with me the importance of a beautiful environment and the sense of 'Calgon, take me away' if only for an hour! Whether you are looking for a deeply relaxing massage, relief from a painful injury or treatment for Lymphedema, you will find what you are looking for here.
Come get in the flow and reconnect to your mind, body and spirit!